COMING soon
Wednesday 15th may. Extinction Rebellion talk and q&a. st Andrew's centre 7.30-9pm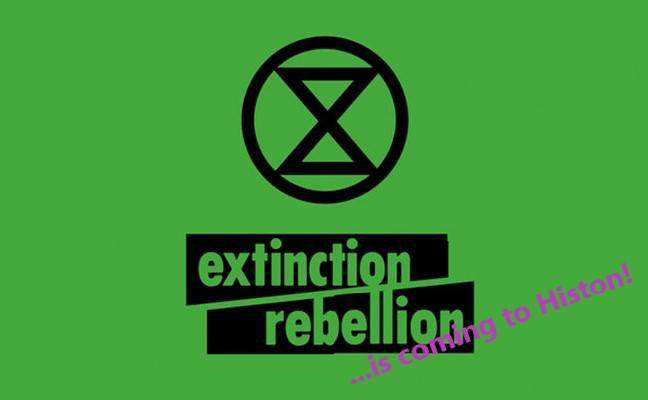 The Histon and Impington Sustainability Group have invited some XR representatives to come and speak to us about the campaign and plans for the future. There will be plenty of time for questions and conversations. Everybody is welcome, a free event.
PLANNING FOR A ZERO CARBON H&I (EXACT DATE TBC END JUNE/EARLY JULY)
Come and get involved with HI Sus Group at whatever level suits you. What matters most to you, what would you like us to work towards?
HISus Social evening of 13th July.Details in the next newsletter

Histon and Impington's first Swish
(clothes swap party)
Sat 5th Oct, 11am
St Andrew's Centre, School Hill, Histon
Sharing and swapping are super sociable ways of reducing both your waste and carbon footprints and are becoming very popular throughout Cambridgeshire. Simply drop off clothes, accessories and shoes you no longer want and choose some 'new to you' ones that you do! More details to follow.
human Library
Where people are books and information is shared. More details coming soon...
Make your Own Bee Wrap Workshop
Ditch the clingfilm and transform your cotton scraps into recyclable food wrap. More details coming soon...
Alternative cleaning solutions
An open session with information about homemade eco-friendly cleaning products. Details to be announced soon...
Previous:
May Wellbeing Trail, Celebrating Our Green Spaces. 17 activities over 8 locations
April Sustainability Social April visit to Amey Recycling Centre
March Family Foraging and Wild Cooking Workshop, foraging and cooking with a local expert

January Vegan Feast. Delicious vegan food and a chance to chat to the chef to find out how it was made
January HI Sustainability Social An event with a theme of up-cycling, buying second-hand and recycling
October HI Community Allotment Halloween Social
October Talk With Peter Gilheany-Influencing the Decision Makers
October Sustainability Social, Celebrating our Green Spaces
July Sustainability Social in the Orchard

June Short Films, drinks, nibbles and chat
May Sustainability Social
Sustainability Brunch
Demain Film Screening
From HI to the High Seas, plastics talk